Typical Abduction


Inspired from the drive up to Ohio from South Carolina, there were many cows and cow pastures. Since I am nearly always thinking about outer space, these two just seemed to go well together. I wanted the UFO to be simple and almost iconic, with a more detailed but blurry background. This was illustrated in Photoshop.


Heat Lightning

This was just a test of how to make gifs in photoshop. A fun project after a night of intense lightning.

Gallifreyan Postcard


The idea behind this postcard was as if you had visited the planet Gallifrey and had picked this up from a kiosk. The circular design is the Gallifreyan writing system that says "Gallifrey" as a translation from the English word. The postcard depicts a scenic view of the capital city and the surrounding mountains with a cloudy orange sky. This was a combination of both Photoshop and Illustrator.


A Dizzy Mermaid


This was a commission piece done for a colleague. This is her character that I've drawn in Photoshop. I mostly wanted to play with lighting and highlights with a very minimal background to focus on the character.


Silent Night


This was a quick vector illustration I did to get into the Christmas spirit. It was meant to be able to go onto a t-shirt with three colors. Its a play on words, as the monster depicted is called "the silence" from Doctor Who. This was completed in Illustrator.


Office Minions


As a joke, I was asked to create the people who work in my office as Minions from the Dreamworks movie Despicable Me. Deciding to test my hand at it, this is what I was able to come up with. These were done in Illustrator, and are supposed to represent each person's look as well as personality.

Powered by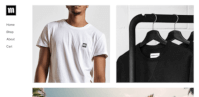 Create your own unique website with customizable templates.