HTC One Phone Skin


This was a design for a stick-on phone skin for the HTC One Windows 8 phone. The wood grain texture, glass, glow effect on the text, and starry sky were all created from scratch in both Photoshop and Illustrator.


Play With Me T-Shirt Design


A 3-color t-shirt design. I created this to appeal to young adult gamers. Its a standard game controller done simply with good humored sexual innuendo that wouldn't make sense to kids but still funny to adults. Created in Illustrator.

Powered by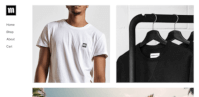 Create your own unique website with customizable templates.