As a project, I decided to re-brand one of my favorite places in Rock Hill. Dave, of Dave's Comics, said his store focused on old comics mainly but always carried the new comics. His demographic was mainly teens to young adults, but he also reached older comic lovers and collectors. With this in mind, I decided to create a logo and several marketing ideas for his company.

Logo Redesign


The colors chosen for this logo are the three colors that were most commonly used in the first published comics. The colors were cheap and easy, which is why they were so popularly used. I brought this into the design as a throwback to that era, since Dave was very proud of the old comics he had. I chose a new comic book font to give it some modern flare, and used halftone in the words to pay homage to the old comics once again. Dave's Comic's old logo featured Captain America, which is where the idea of the star and circle came form in the background. Its bold and reflects Captain America's shield.


Marketing Ideas


The slideshow on the left depicts several different ideas for the company. I wanted the brand to be cohesive but still versatile, so creating a mascot was the ideal route. I wanted the marketing tools to make sense and remind buyers that Dave's Comics has the biggest selection and the best prices on comics both old and new.

Powered by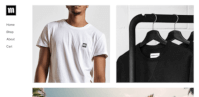 Create your own unique website with customizable templates.