Carolinas Cornerstone has played host to two concerts since I've worked with them, and both times I was fortunate enough to be able to design posters and flyers for these events. Photographs were given to me and used with permission by the artist.

| | |
| --- | --- |
| Andy Simmons is a local artist that records and produces his own music. He has a soft rock sound that praises God. I used elements from his cd cover to tie into the poster, using the frame and elongating it to fit the poster image. I created the sky background using Photoshop. Cutting Andy out and letting him break both the frame and the font made him seem larger than life. | The DeLearys are a pop rock sister duo. Singers, musicians, and songwriters, the DeLearys do it all. The concert was free, but asked for a love offering. I gave them an angelic glow in Photoshop and used vector art to emphasis the guitar in the background. Slanting their name broke the static poster into something energizing but still serious. |
Powered by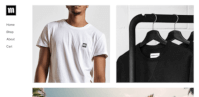 Create your own unique website with customizable templates.