A collection of logos I have created for various lifegroups and ministries within Carolinas Cornerstone Church.

Rooted Logo


Rooted is the children's ministry at the church. They teach children in their preschool years about God. I decided to have a little fun with this logo without making it too childish, as it is the adults that really look at this logo. I decided to lowercase the word 'rooted' to echo the ages of the children in this group, and used a fun leafy font to tie in with the ministry name and to suggest growth.


PinPoints Logo


PinPoints is a lifegroup geared towards 6th-8th graders. The client wanted something that would speak to that age group, which to me said something technological. I brainstormed several ideas about maps and compasses, as their idea was to give the kids direction, and the actual word pinpoints tied into that like points on a map, but none of those things said 'younger generation' to me. That's when I got the idea of doing an actual pin like googlemaps has. It was relevant new age. Turning the pin into the 'o' of 'points' really brought together the design, and the typeface suggested pins without actually being a pointy font, which I thought was more approachable and friendly.


Missions Logo


The pastor at the church wanted a redesign of their old logo for their missions team. This logo had to be easily scalable and easily inserted into a variety of designs including website usage, printed on t-shirts, and on posters and fliers. Carolinas Cornerstone does outreaches both locally and globally, and all outreaches fall under the Missions ministry. The request was for a simple, clean logo.
I decided to shorten Carolinas Cornerstone to CC. Members of the church often refer to Carolinas Cornerstone as CC, so I knew the shortening of the name would still be widly recognized and clean up the logo significantly. I chose a sans serif font to go with the church's logo font; Garamond. Encompassing the words in a circle I thought would subtly give the idea that our Missions ministry is a global action, and used varied widths on the circle to suggest action.


Wired Logo


The middle school group at the church is named Wired because the instructor considers his youth wired 24/7. I chose a bright cyan to resemble the bright energy of the youth in this group. The hexagon gave it a little bit of a clean edge while still being a funky enough shape to fit with middle schoolers. The word 'wired' was written by hand for a fluid motion, looking both like an actual wire and giving the logo action.

Powered by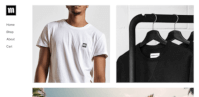 Create your own unique website with customizable templates.