Katheryne's the name, versatility is the game.
I am a 25 year old Illustrator and graphic designer with a BFA in Visual Communication and Design with a concentration in Illustration. At Winthrop University I learned lots of important things like hand skills, how to take a critique, and patience. Studying both Illustration and Graphic Design has been quite a journey, and I'll always keep learning even now that I'm out of college. There is always more work to do!
I currently work as a Graphic Designer for Carolinas Cornerstone, and as a Communications Specialist at Unity Presbyterian. I have worked for Carolinas Cornerstone for about seven years doing various graphic design and illustration for both print and web. I have been with Unity for a year, implementing brand standards and working on social media. I've also worked as a Caricature Artist at an amusement park with Kaman's Art Shoppe.
In particular, I like to paint fantasy and sci-fi related images. Figuring out new ways to create a galaxy has become my long term hobby. I also like to create vector art, design logos and posters, and I'm even dabbling into t-shirt design and realistic portraiture. Creating child friendly images and books is one of my greatest passions.
When I'm not creating, I enjoy writing stories with friends and playing video games. My favorite video game is probably still The World Ends With You, Portal 2, and Kingdom Hearts. Right now I'm playing Overwatch and Skyrim a lot. My favorite TV series is (if you haven't guessed it) Doctor Who, but a close second is Broadchurch. I also have a bad habit of watching crap telly like Beyond Scared Straight and the multitude of cooking shows. I have no idea why. I'm an avid anime/comic convention go-er and every year I attend The Carolinas Renaissance Festival in full costume.
Recently I've taken up sewing, and I love to read. (Try reading The Book of Joby by Mark Ferrari. Wow.)
I also have a dog named Jude. I rescued him roughly two years ago, and he is my faithful companion. He is a samoyed/chow mix, who we're guessing is around seven years old. His favorite pass-times are sleeping in the most inconvenient places, getting scratches, shedding everywhere, and carrying his favorite toy hedgehog around.
If you would like to ask about commissions or a job, feel free to email me! My inbox is always open at

acorn@acorntreestudios.com
---
Powered by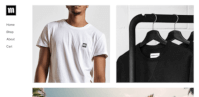 Create your own unique website with customizable templates.